Sie mixen die Bands für Ihr ultimatives Event !
Premium Bands und Top Livemusiker kombiniert
nach Ihren persönlichen Eventwünschen.
Charts, Lifestyle & Mainstream, Party- & Funmusic.
Sie dürfen auch selbst als Livemusiker mitauftreten!
Sie wünschen - Wir spielen! Für Dancingstars
Livemusik nach Ihren persönlichen Musikwünschen.
Suchen Sie in den Songlisten unseres Musikteams.
Special- & Themen Events | Latin, Standard & Rock'n'Roll
Ultimative BANDS & FRIENDS:
weitere Bands & Musiker des B4E Musikerteams;
INFO über bekannte Bands & Musikern für Special Guests
mit welchen sie ein besonders Erlebnis-Event bieten können
Eventportal
Musikerplattform
Die absoluten premium LIVEBANDS für jeden modernen Event!
Fun- & Lifestyle-Partyprogramm, Culthits, Mainstreet & Worldmusic,
Chill- & SmoothJAZZ, spezial Tanzprogramm, Entertainment
(auch Special- & Themen Events, Standard & Rock'n' Roll Events)
SPECIAL MUSIC & PREMIUM BAND
Musikerplattform - Musikkooperation Bandcommunity
- Musikerteams Livemusic & Coverbands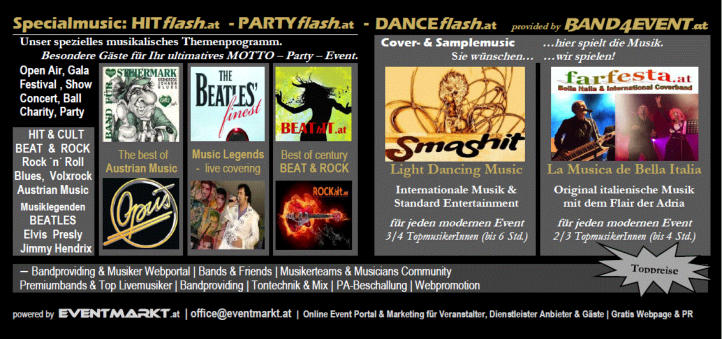 Original Vintage Music im Retrofeeling :
VINTAGE Livemusic - RETROfeeling |
KULTHITs of Roaring 60s & Beat of 70s |
Best of POP, Beat, Rock, & Rock'n'ROLL |
Solid GOLD, Worldsongs & Evergreens, Dancemusic
ROCK 'n' ROLL | Latin | Standard Tanzmusik | Entertainment
EVENTMARKT.at
ALLES für IHR perfektes EVENT.